Upcoming Events
October 2022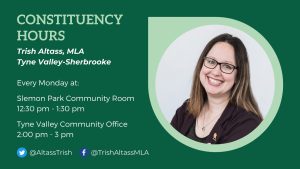 Do you have a question or concern you would like to speak to your MLA about? Trish Altass, MLA for District 23 Tyne Valley-Sherbrooke wishes to advise her constituents that she holds weekly community office hours every Monday from 12:30 pm to 1:30 pm at the Slemon Park Community Room. No appointment is necessary. If you prefer, you can also book your meeting by calling (902) 620-3977 or emailing pdaltassMLA@assembly.pe.ca.
Find out more »
November 2022
+ Export Events
The Official Opposition of Prince Edward Island provides a crucial role in the governing of our province. The caucus is made up of Green Party MLAs elected by Islanders.
We strive to offer informed and intelligent debate and proposals that are evidence-based and data-informed. Through respect and integrity, we seek to improve the work and efforts of government on behalf of all Islanders.
Sign up for email updates on our work in the PEI legislature and upcoming events.
Office of the Official Opposition
2nd Floor, Coles Building
175 Richmond Street, Charlottetown
Prince Edward Island, Canada